21-3625-AUT-What to do with my struggling readers? (All classes in Primary schools)
What to do with my struggling readers? (All classes in Primary schools)
In this webinar there will be a focus on the creation and use of personalised books for children requiring learning support across the Primary School. A range of resources will also be explored with an emphasis on semantic, syntactic and graphophonic reading cueing systems.
This webinar will be supported by a resource pack.
Catherine Gilliland is a very experienced Literacy trainer and storyteller. She uses an innovative and engaging presentational style to engage her audiences and has her work published. All of her webinars come with a resource pack to support the teachers in their classrooms.
A link to access the course will be emailed to you prior to the course.
If you wish to cancel your place you can do so by clicking on the cancellation link at the bottom of your booking confirmation email.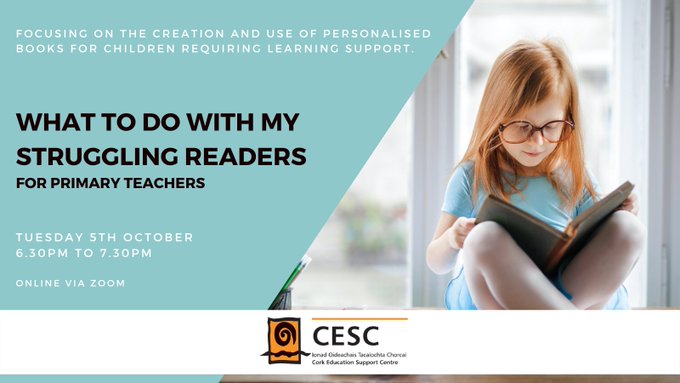 Course Details
| | |
| --- | --- |
| Course Start Date / Time | 05-10-2021 6:30 pm |
| Course End Date / Time | 05-10-2021 7:30 pm |
| Capacity | 100 |
| Available place | 28 |
| Cut off date | 05-10-2021 11:00 am |
| Fee | Free |
| Number Hours | 1 |
| Speaker | Catherine Gilliland |
| Location | Online |